Work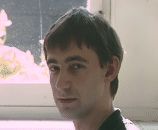 Bert DeKnuydt, is a member of
, VISion for Industry, Communications and Services group, at ESAT, Department of Electrical Engineering, Faculty of Engineering at the K.U.Leuven university in Leuven, Flanders, Belgium.
You are always
at his office (# 91.01).
You, visitor #
, can snail or phone him at:
        Bert DeKnuydt
        Departement Elektrotechniek
        KULeuven ESAT/PSI
        Kasteelpark Arenberg 10
        B-3001 Leuven-Heverlee
        B E L G I U M 

but eMail to Bert.DeKnuydt@esat.kuleuven.be is preferred.
Work.Research
You can check my official homepage and read or download some of my papers on image coding
Work.Other
I am also the local maintainer of gcc (and libraries), ghostscript, ghostview, gnuplot, open3d and Tcl/Tk.
Life
Life.Net
You can check my geek code:

GC3.12 GE/CC$ d- s+:-- a+ C++$ UL++++U++++H++O++++S++$ P+>++ L+++ 
E+ W++ N++ o? K? w--- !O M- V PS--- PE++ Y+ PGP !t !5 !X R+>- 
tv- b+++ DI? D? G+ e+++ h--- r+++ y?

According to the Keirsey Temperament Sorter, I am a iStP ('The Crafter') type of person.